Dlvr.It is quite simple to use. You start by creating a free account on Dlvr.it. Then you provide feed address of your blog. Then you choose the social networks to which you want to send new posts. And you are done :)
Here is a quick video tutorial about using Dlvr.it: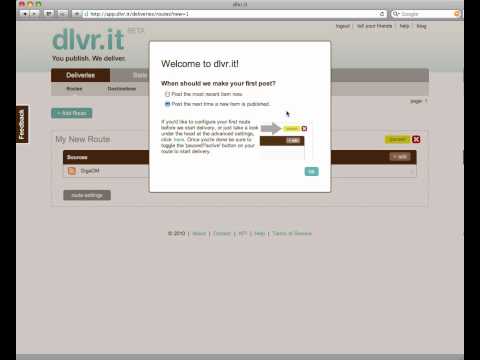 Also check out best free feed readers.
Features of Dlvr.it:
Automatically Post RSS Feed to Social Networks: This is of course the best feature of Dlvr.it. What I really like in this is the number of social networks that are supported. It supports Twitter, Facebook, MySpace, LinkedIn, Google Buzz, Status.Net, and more.
Get User Analytics: Dlvr.it provides complete user analytics about the items that you share on social networks. You can see which item gets how many clicks, and from which social networks. So, you can easily see which social network gets you most traffic.
Integrate with Google Analytics: Dlvr.it also easily integrates with Google Analytics. This gives you additional information about users, like country of users, browser, etc.
Option of URL Shortening services: By default, Dlvr.it shortens URL with its own URL shortening service (dlvr.it). However, you can choose Bit.ly, or j.mp as well. You can also use your own custom domain name for URL shortening.
Schedule Posts: Dlvr.It lets you control at what time you want new entries to be posted to social networks. For example, if you want all your entries to be posted within 9-5 only, Dlvr.it can do that.
Add Hash Tags: Dlvr.it can automatically add HashTags to your posts. You can specify a fixed hashtag, or it can derive hashtag automatically from category, or author.
Feedburner compatible: Dlvr.it works well even if you are using Feedburner to burn your feed (I am using that option at time of writing of this article).
Unlimited RSS Feeds: You can add unlimited RSS feeds, and control precisely to which social network should each feed go.
You might also like: Free WordPress Hosting.
Dlvr.it is definitely the best service to automatically post RSS feed to Twitter, Facebook, and more. I am very surprised that they provide so many features, and is still completely free.